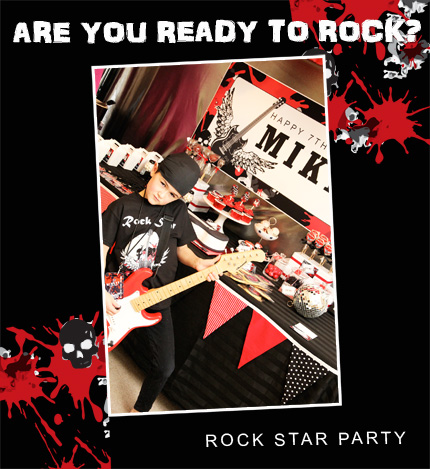 It was time for a party for one of the boys in our house.
He really likes the idea of rock and roll, so what better kind of party than a Rock Star Themed Party!!
When we think about a rock n rollers lifestyle, or a loud rock concert, thats the kind of atmosphere we were trying to replicate – without the thousands of screaming fans. We had an absolute ball creating the decorations, foods and accessories for this theme and the kids had soo much fun!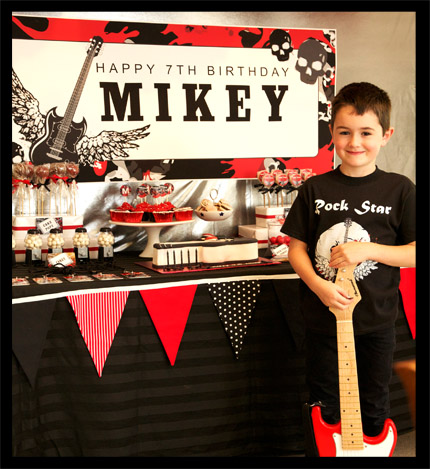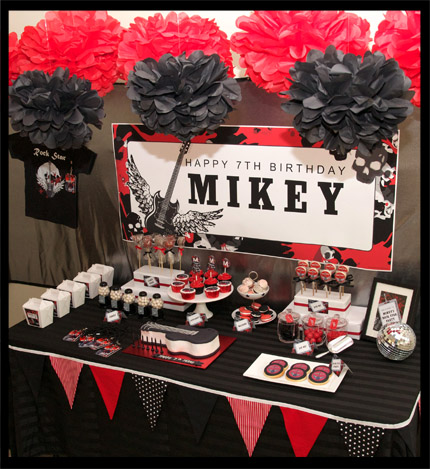 So the invitations went out, with the instructions that the guests were to wear jeans, as any self respecting seven year old rock star would.
Have you had an event that you would like to share with us? We would love to see!
On every concert tour all rock band roadies and crew need the tour t-shirt. So of course all of our guests received the tour t shirt and bandanna upon arrival.
Once they changed into these, they all felt part of the crew, and this really enhanced their experience. Bonus – they got to take them home as a souvenir! Just like a real tour t shirt.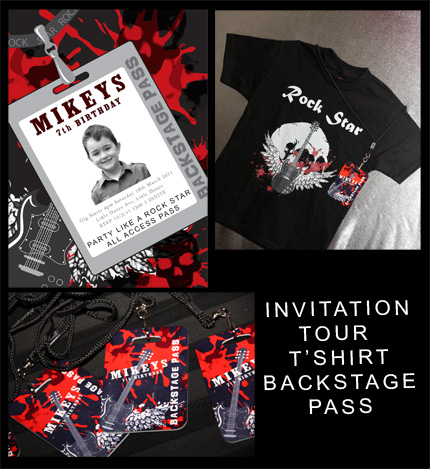 With these accessories in mind, our budding rock stars simply had to have a photo shoot before the concert and what a photo shoot it was – they really hammed it up. Guns N Roses eat your heart out. The photo shoot was conducted in front of a makeshift " stage" using one our custom made rock star banners. We tied it all together nicely with some red and black pom poms and a custom made party bunting from ZippyZippy. A HUGE thank you to our wonderful friends at JR Photography for their amazing photos!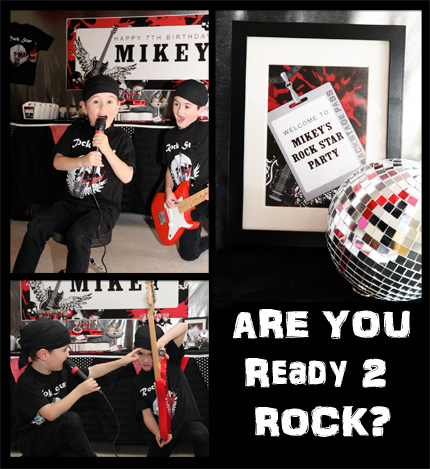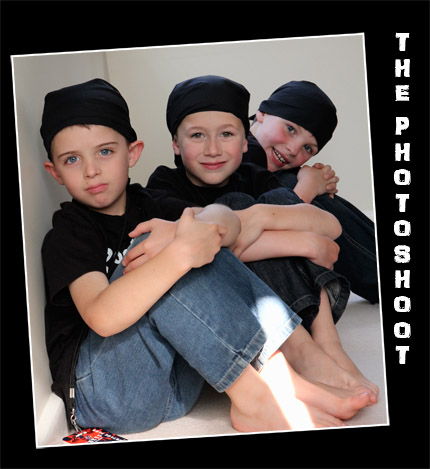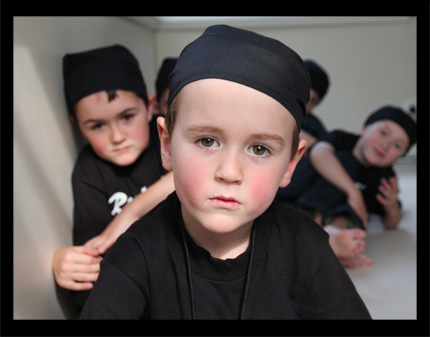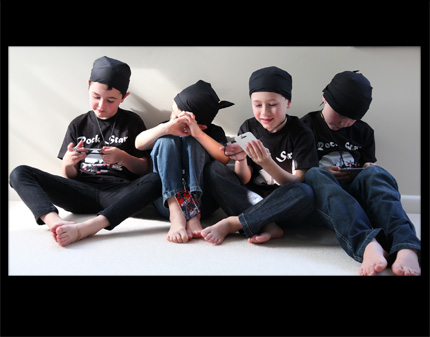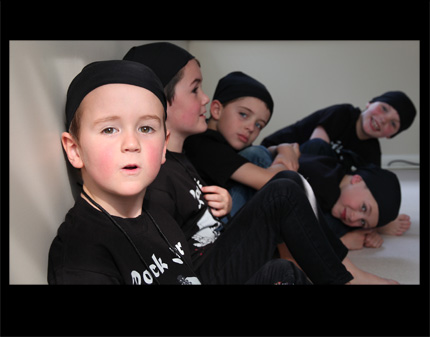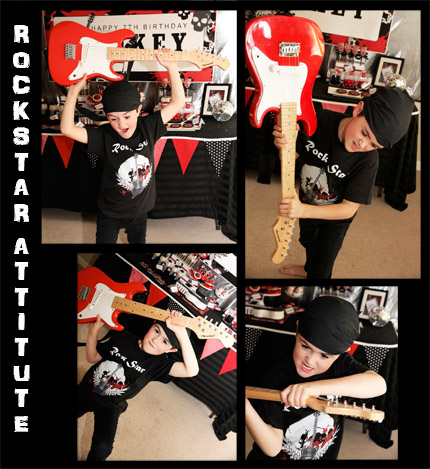 To see our personalised invitations, decorations and party supplies click here!
So once the posing and attitude and bad hair had all been unleashed, it was time for the kids to run amok, wear themselves out, then be loaded up with some extra special rock n roll themed party foods. Check out these rock star party cookies, as well as our possibly microphone shaped cake pops and rock star lollipops!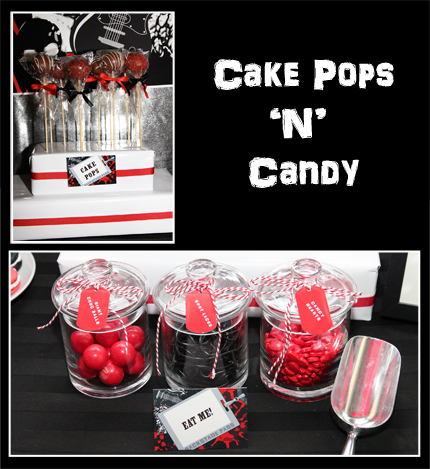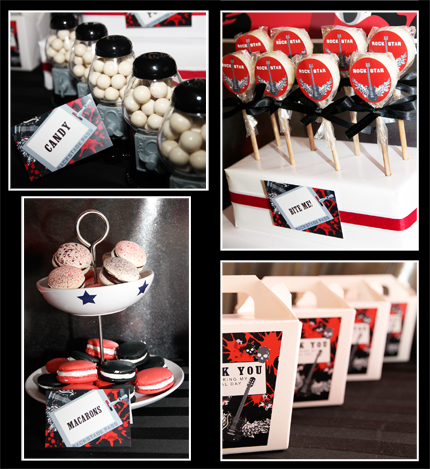 Suitably loaded on sugar, our rock gods set about challenging each other for a place in the badly behaved rock star hall of fame, until it wore off.During this time we saw some amazing air guitar solos, stage acrobatics on the trampoline, pose striking, as well as invisible airborne drumming.
Then it was back for more sugar, in the shape of a real guitar shaped birthday cake, and these heavy metal cupcakes, created by the talented Lisa at Cakes by Lisa. Okay, they weren't really very metal, but real rock n roll stars don't eat plain old cupcakes do they? Well do they??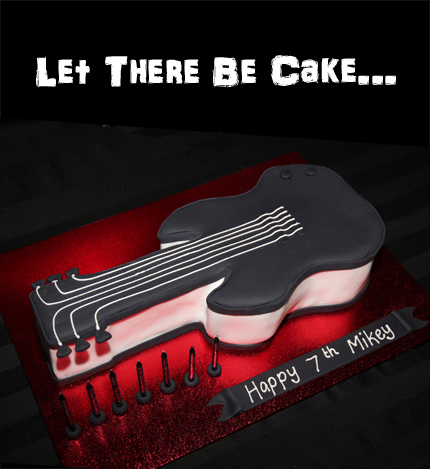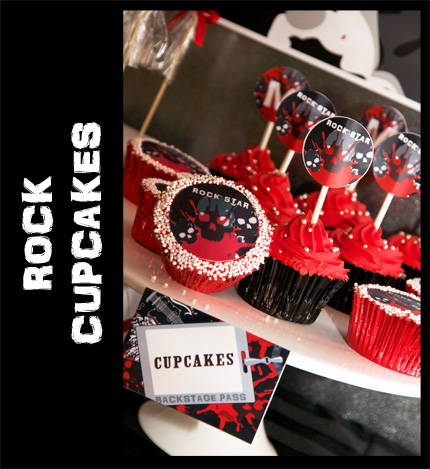 Later on in the afternoon, security announced that there was a disturbance - some people trying to gain unauthorised access to the backstage area. We thought they might be after autographs or a photo opportunity, but no they were simply parents arriving to collect some very tired and happy youngsters.
As a parting gift, our rock star heroes each received a thank you box containing themed coloured chocolates and lollies to remember a fun afternoon with friends. Now every time they put on that rock star t shirt they will remember that afternoon...
And as the kids grow older together, we would be willing to bet some of those back stage passes retain pride of place on the trophy collection long after our little rock stars have grown out of those so very cute rock star t shirts...