Posted by Little Dance on 7th Jun 2021
This amazing ALICE IN WONDERLAND THEMED BIRTHDAY PARTY was sent in by Leisa at Party Prop Hire
Here is what Leisa said about this amazing event
"This party was created for a 13th Birthday. It was a murder/mystery party which was played around the table whilst eating, in between scenes we would leave the table for games. The party went for 6 hours and we all had a blast.
The scene was set with the unique invitations in glass jars. When guests arrived they used the key that was on the invitation to open the doors to the stump. Once through the stump they were greeted with a checkerboard background, flamingos, lit up cherry blossom trees, clocks, hanging drink me bottles, keys, cards, Cheshire cat smiles, and flowers, all to give the effect they were falling through into Wonderland. Once at the end of the artificial grass they entered Wonderland. The colourful Mad Hatters table complete with drink me bottles, name tags and heart shaped cups and saucers. A themed desert table, with 'eat me' lolly pops and chocolate, themed cupcakes inside bird cages, blue jelly with 'eat me' spoons, themed cookies and a Cheshire Cat and Card Soldiers double tiered cake. When you cut into the cake it was checkerboard chocolate and white mud cake, again great for the theme and a real wow factor. Travelling further through Wonderland you would find giant chess, Cheshire Cat and Hedgehog Toss game, Which Way sign posts, large tea cup stack, letters that spelt "Curiouser & Curiouser", the white rabbit with his clocks, a tree with hanging tea cups, empty photo frames and the Cheshire Cat, Royal Croquet Court complete with Flamingo Croquets and Card Soldier wickets. A photobooth with a great backdrop provided lots of laughter not to mention some great memories caught on camera. A dolls house was perfect for photoshoots. The take home lolly bag was a tea cup and saucer filled with Alice in Wonderland inspired treats, with a drink me bottle attached".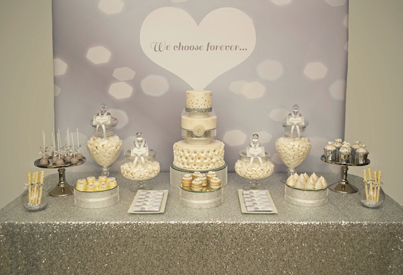 Want to make easy commissions online? Become our affiliate!
Click this text or the link below to find out more about our program
To see our photo invitations, decorations and party supplies click here!
Our favorite party ideas were
* Colourful Mad Hatters Table
* Eat Me Lollypops
* Which Way sign posts
* Adorable dolls house!
Vendor credits
Cake and cupcakes - Jodie from Munchin Cakes
Similar items for sale online by Little Dance include